Find plenty of things to do on and near the Village Of Sugar Mountain for July 4th vacations in the Blue Ridge Mountains. While some of the Independence Day events have been cancelled for 2020, you will find plenty of ways for your family to celebrate with lots of fun – including fireworks.
Lift Rides
For both scenic riders and bikers, the Summit Express chairlift operates from 10 AM and will run until 7 PM for bikers and until 10 PM for 4th of July fireworks viewers. It also runs all day Friday and Sunday. Read more about the Bike Park and Lift Rides. Find food and refreshments in the base lodge all day. Address: 1009 Sugar Mountain Dr, Sugar Mountain.
July 4th Fireworks
Yes, the show is on! Where to watch the fireworks? The most unique and up-close vista is from Sugar's 5,300' peak via the Summit Express chairlift (fee). Or watch from the lodge (free admission & parking) and enjoy live music by the Typical Mountain Boys on the deck 6-9 PM. Also watch from the parking areas at the resort. Address: 1009 Sugar Mountain Dr, Sugar Mountain.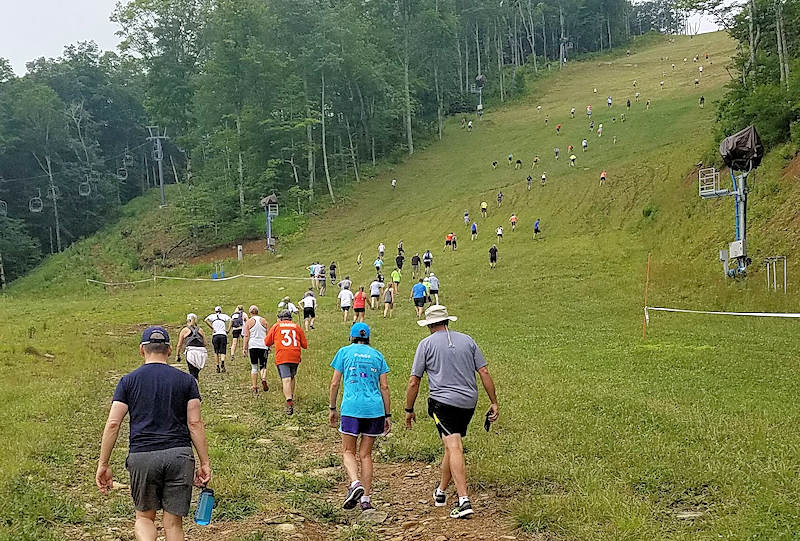 Summit Crawl
At the Sugar Mountain Resort, join all ages in the challenging Summit Crawl. Run, hike, climb, or crawl from the lodge to Sugar Mountain's 5,300-foot peak by way of the Easy Street, Gunther's Way, and Northridge ski slopes. The 1.2-mile route climbs 1,200 in elevation! There is no time limit, so you don't have to be a marathon runner. Register online until 4 p.m., Friday, July 3 or in person until 8:30 a.m. on July 4. Entry fee includes a t-shirt and downhill transportation on the Summit Express lift. The start whistle blows at 9 a.m. and winner in each category win medals. Get info and register at www.skisugar.com/crawl.
More Things to Do
See our Summer 2020 Guide for many things to do within a short drive from Sugar Mountain. And don't forget our municipal public golf course and tennis courts across from the ski resort!
Places to Stay
Rent a home or condo on the mountain for the ultimate vacation. Find a big variety with these top rental companies right here on the mountain.
Please be safe! All our of businesses are taking precautions against COVID-19. So please do your part and practice social distancing and wear face masks!