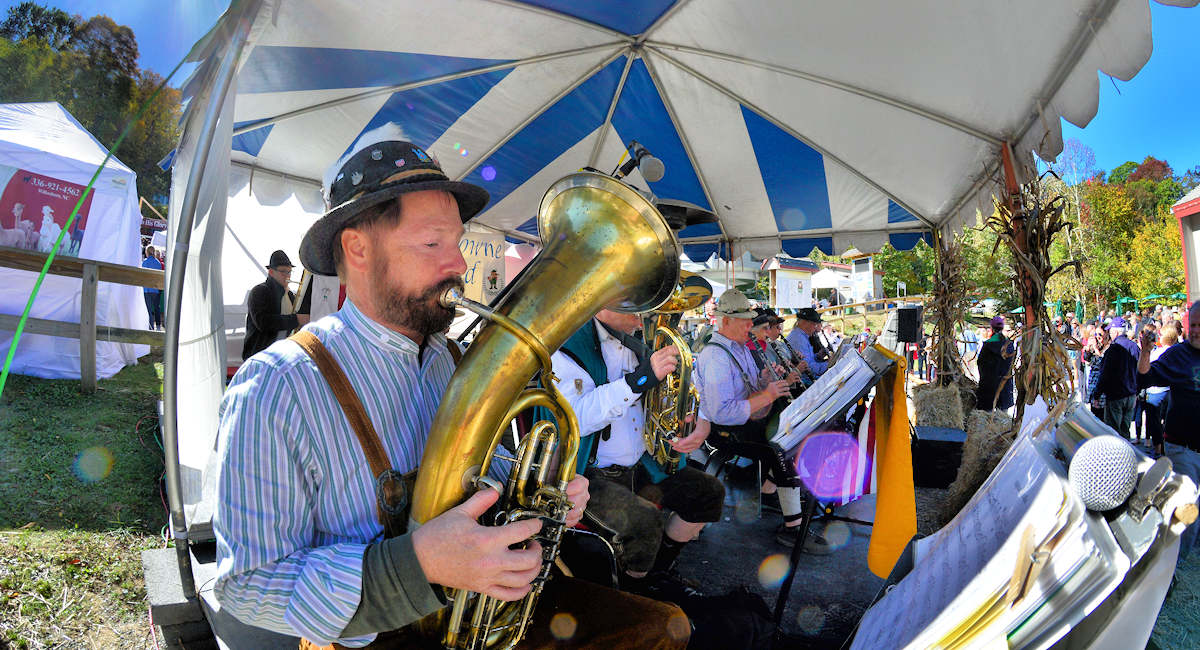 Enjoy festivals, concert series and other fun events in our Village of Sugar Mountain and nearby:
May 31-September 6, 2021: Grillin & Chillin Wednesday Summer Concerts
The Caddyshack Café at Sugar Mountain's Golf and Tennis Club hosts the popular summer live music series kicks off Memorial Day and continues every Wednesday 5:30-9 PM until Labor Day. Special dinner feature, along with beer and wine, are available from 5:30 to 8:30 PM. Live music runs 6-9 PM. Enjoy food, drinks and tunes on the big deck overlooking the golf course and panoramic mountain views. Wear your dancing shoes! Free admission. Get details.
July 4, 2021: Summit Crawl
Run, hike, climb, or crawl from the ski lodge to Sugar Mountain's 5,300-foot peak by way of the grassy slopes. The 1.2-mile route climbs 1,200 in elevation! There is no time limit. Entry fee includes a t-shirt and downhill transportation on the Summit Express lift. Kicks off at 9 AM. Advance registration required. Get details.
July 4, 2021: Independence Day Parade & Fireworks
Watch the July 4th Parade at 11 AM in Banner Elk and fireworks display just after 9 PM on Sugar Mountain from the lodge or ride the lift for an up-close view at the summit. Get details.
Summer Weekends: Scenic Lift Rides & Bike Park
Ride the ski lift up to the top of Sugar Mountain on Memorial Day Weekend and Friday-Sundays in July through Labor Day. Take a picnic to enjoy the big views and hike out to the rocky summit. Mountain Bike Park open – riders take the lift up and then race down the trails to repeat. Get details.
July 8-12, 2021: Grandfather Mountain Highland Games
The biggest event in the NC High Country is America's grandest Scottish Games, held in a spectacular mountain setting reminiscent of Scotland. This very unique festival brings bagpipes, tartan plaids, multiple stages of live music, crafts, food and traditional wares. Watch continuous athletic competitions, dancing, piping parades, sheep dog demonstrations and much more. 6 miles from Sugar Mountain. Get details.
July 16-18, 2021 & August 13-15, 2021: Fine Art & Master Crafts Festival
Returning for the second year in front of the Sugar Mountain Resort lodge! These juried art festivals feature an eclectic gathering of unique hand-crafted wares from fine artists and master crafters. Get details.
August 25, 2021: Play for Pink Tennis Tournament & More
This all-day fundraiser for Breast Cancer Research includes tennis & golf tournaments, games, costume contests, silent auction, music and more. Read more.
September 11-12, 2021: Sugar Mountain Golf Classic Tournament
Hosted by the Sugar Mountain Golf Club with two days of individual medal play, the Classic is open to amateur men and women 18 years of age and up.  Read more.
October 9-10 & 16-17, 2021: Scenic Lift Rides & Bike Park
See the panoramic views and fall colors as you ride to the peak of Sugar Mountain on two fall weekends. Take a picnic to enjoy the big views and hike out to the rocky summit. Get details.
October 9 & 10, 2021: Oktoberfest at Sugar Mountain
Find a festive Bavarian atmosphere that is very family-friendly with many things to do. Festival admission, parking and shuttles are free. All the fun takes place at the Ski Lodge (1009 Sugar Mountain Drive). The festivities take place 10 AM until 5 PM Saturday and Sunday and include live Bavarian music, costume contest, kids fun center, scenic chairlift rides and beer. Get details.
October 16-17, 2021: Woolly Worm Festival
Watch the woolly worms race to select the winner to predict the winter weather and explore the craft fair with 175 vendors. Also enjoy live music and rides for the kids. Saturday 9am-5pm & Sunday 9am-4pm at the Historic Banner Elk Elementary School, 185 Azalea Circle, Banner Elk. From the entrance of Sugar Mountain, simply turn left and drive 2.5 miles. Get details.
October 16, 2021: Valle Country Fair
Just 10 miles from Sugar Mountain is one of the most beloved, authentic celebration of our Blue Ridge with the best local food, crafts, music and dance. Feast on Brunswick Stew, chili, BBQ and more. Take home fresh baked goods, homemade jams & jellies and apple butter made while you watch. Find a big selection of handmade arts and crafts by the finest regional artists, and tap your feet to bluegrass and country bands. Go to our Valle Country Fair Guide.
December 10-12, 2021: SugarFest
This weekend of winter fun at Sugar Mountain Ski Resort includes ski clinics by an Olympic medalist, equipment demos, after ski party with fireworks on Saturday, and more. Get details.
Go to our seasonal guides for things to do all year: Winter | Spring | Summer | Fall