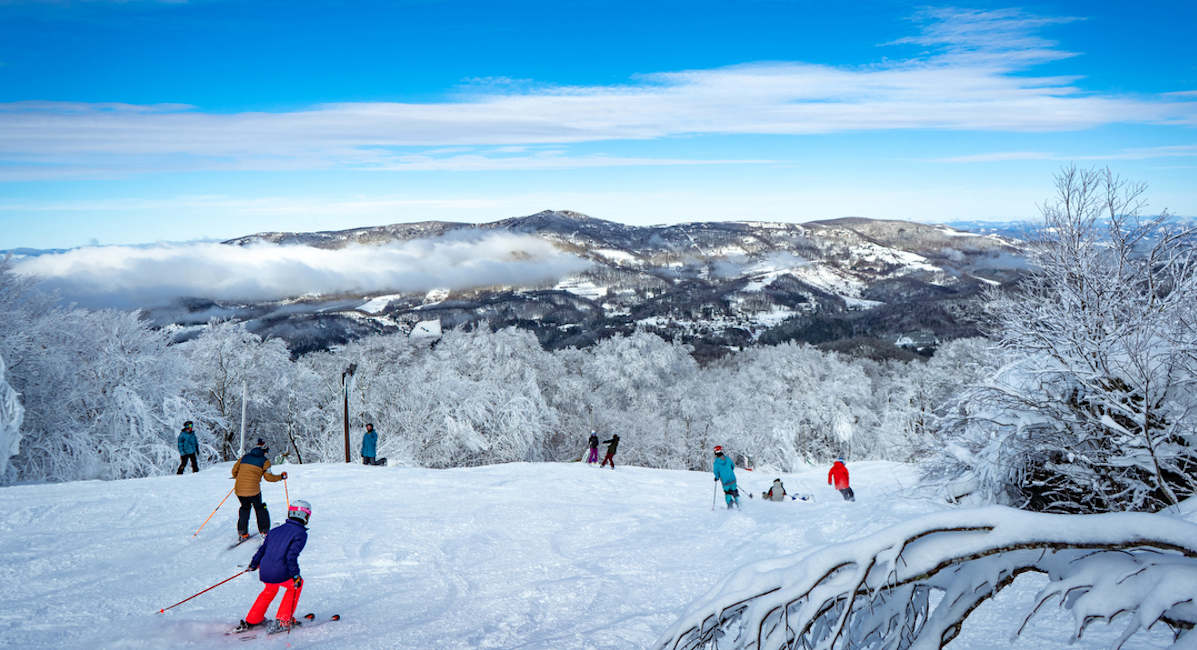 Skiing Reopens in November 2021! For summer fun, see Bike Park & Scenic Lifts.
Our village surrounds the Sugar Mountain Resort that features 125 acres of ski terrain on 21 slopes, with 8 lifts for rapid transport. In fact, it offers the most ski area and the largest vertical drop (1,200 feet) in the North Carolina Blue Ridge Mountains. With skiing, snowboarding, tubing, ice skating and snowshoeing, there's fun for the entire family for a winter getaway. Find a variety of places to stay near the slopes  – including vacation rentals and mountain homes of all sizes.
Coming Up for 2021-22 Season: Guests will enjoy a new Doppelmayr, quad chairlift, fixed-grip chairlift to take them midway up along the mountain's East side for Big Birch slope and Oma's Meadow. It replaces the green lift and will increase uphill capacity to to 11,660 passengers per hour.
The summit at almost 5,300 feet elevation averages 78 inches of natural powder each season. Ski slopes typically open by Thanksgiving thanks to an extensive snow-making system. Depending on mother nature, they remain open through most of March.
Since we are a ski town, find everything you need – including many ski equipment rental shops, winter sport stores, restaurants and many other things to do nearby. Plan to stay an extra day or two to enjoy all the fun off the slopes!
For the latest information and slope conditions, go to the Sugar Mountain Resort Website. Phone: 828-898-4521.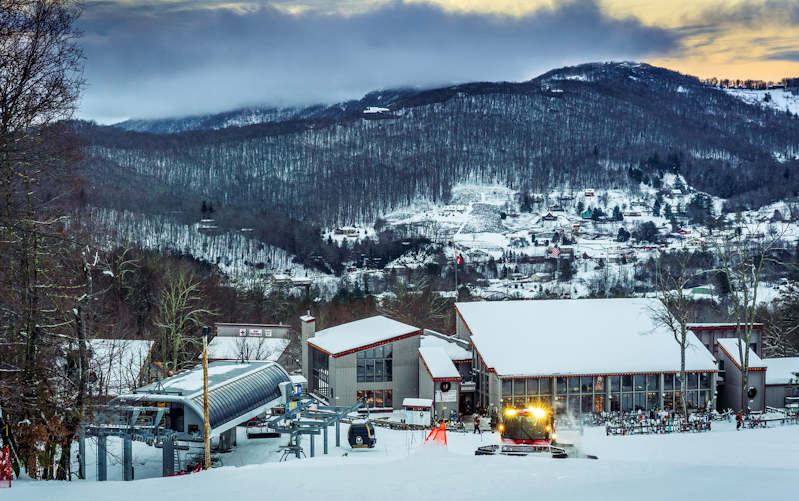 Stay on the Mountain
Find cozy mountain cabins, convenient slope-side condos and luxury home rentals of all sizes on our mountain. It's all about convenience at Sugar Mountain – with two grocery stores for stocking your kitchen and many restaurants within a few minutes of the slopes. Check out our places to stay!
Ski Packages & Specials
Find many discounts and ways to save! See our list of current specials and promotions for skiing, snowboarding, tubing and ice skating.
Ski Lessons
Sugar Bear Ski School and Polar Bear Snowboard School teach skiing to kids ages 5-10 and snowboarding to kids ages 7-14. Ski and snowboard group and private lessons are available for all levels, ages and abilities. Whether this is your first time skiing or snowboarding, or you've been skiing or riding for years, you are sure to improve your skills.
Equipment Rental
Rent skis, snowboards, boots, helmets, poles, jackets, bibs and more at the main Lodge (go there first and buy lift ticket there). Get details on the resort website. Also, find several options to rent and buy equipment at the entrance of Sugar Mountain – see our Shopping Guide.
Trail Map
Plan ahead and check out all the options. There are 5 miles of ski runs. See a map of the slopes and lifts.
Snow Tubing Park
No experience needed! Everyone enjoys a fun trip on provided tubes down groomed lanes at Sugar Mountain Resort. A Magic Carpet lift brings you back to the top for continuous riding. Read more.
Ice Skating
One of the town's tennis courts is transformed into a 10,000 square foot ice skating rink, with plenty of rental skates available. 1.5-hour sessions begin every two hours. It's located near the tubing runs, across the street from the ski lodge. Read more.
Snowshoe Tours
Head out with a guide to explore the snowy forests along the slopes. Read more.
Parking
Great news! Parking and shuttles are free. On busy days, especially Saturdays and holidays, there will be multiple parking lots near the lodge and at the main entrance of Sugar Mountain. Ice Skating and Tubing has a separate parking area, across the street from the lodge (golf/tennis center).
Free Village Shuttle Bus
Ride the Sugar Bus at no charge on most weekends from condos and rentals on the mountain to the ski lodge. Read more.
Tickets & Hours
Slope tickets can be purchased at the main ticket windows in front of the main lodge, in the Rental Department, and in the Ski School building. Go to the Resort Website for rates. Also,  see a list of ski discounts.
Day Session: 9 am-4:30 pm
Half-Day Session: 12:30-4:30 pm
Night Session: 6-10 pm
Tubing: 10 am-10 pm
Ice Skating: 10 am-10 pm
Open every day, including Thanksgiving and Christmas Days.
Sugar Mountain Weather
Our weather high in the Blue Ridge Mountains can change quickly! Four-wheel drive is always recommended especially if you stay higher on the mountain. Since we are in the south, we always have warmer spells that affect slope conditions. On other days, be prepared for below zero wind chills. For the local's weather forecast for the lodge area, go to Ray's Weather – temperatures are often 5+ degrees colder at the summit.
Driving in Snow
See our Winter Weather & Driving Tips to help you prepare for your trip.
For the latest information and slope conditions, go to the Sugar Mountain Resort Website. Phone: 828-898-4521.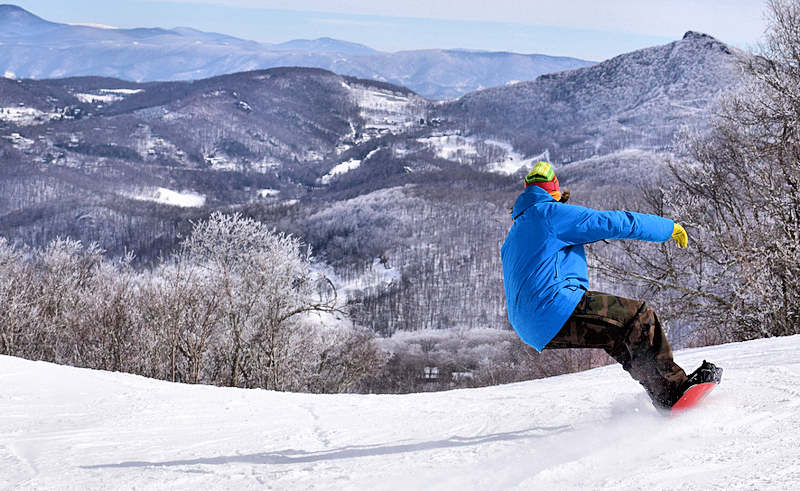 Ski Resort Events
SugarFest, December 10-12, 2021: SugarFest is a weekend of winter fun at Sugar Mountain Ski Resort with ski clinics by Olympic medalist Andrew Weibrecht, equipment demos, after ski party with fireworks on Saturday, and more. Go to their website for details.
New Year's Eve Celebration
March Madness, March 7, 2022 – End of Season: Get up to 25% savings on lift tickets, rental equipment, and lessons.
Live Music: Enjoy free live music inside the lodge most Saturdays 4-6 PM.
Ski Lodge Address
1009 Sugar Mountain Drive, Sugar Mountain, North Carolina 28604
Note: When you reach the mountain, be sure to go to the main entrance of Sugar Mountain (use GPS address 106 Sugar Mountain Dr) at the blinking light and big sign. Often, GPS will tell you to turn too early – taking you on a very curvy and hilly road.
For the latest information and slope conditions, go to the Sugar Mountain Resort Website. Phone: 828-898-4521.
More Info: Winter Things to Do | Shopping (Groceries to Sporting Goods) | Restaurant Guide | Social Distancing Things to Do