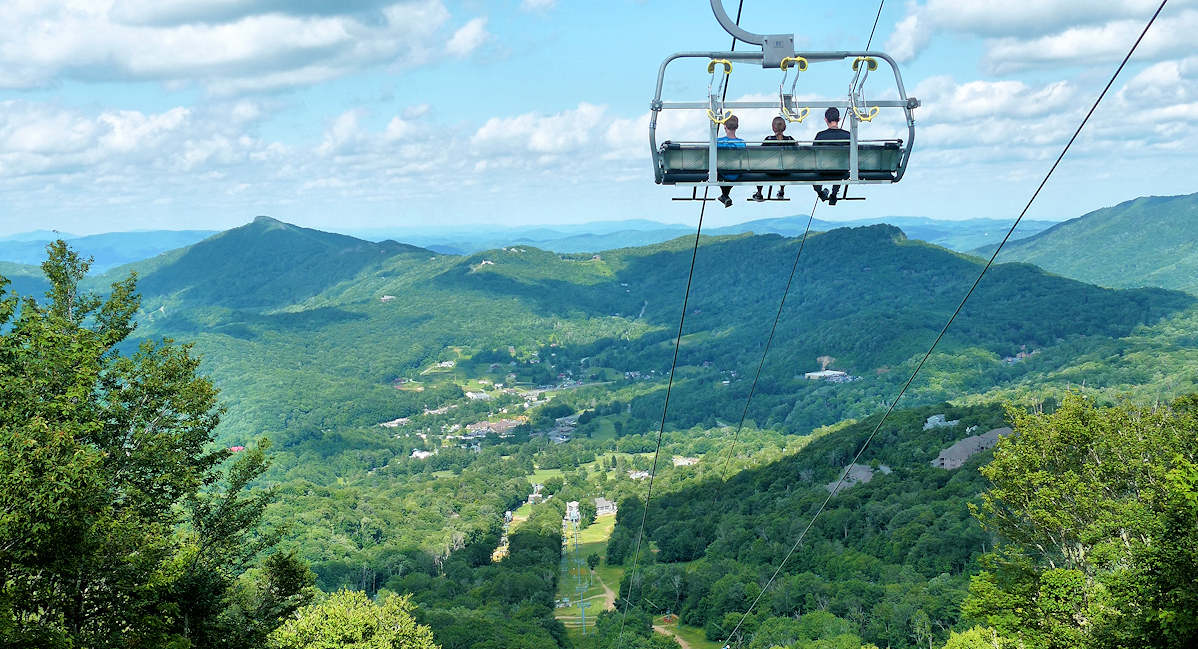 For summer and fall 2020, Sugar Mountain Resort adapts its ski slopes to exhilarating biking and scenic lift rides. Remaining dates are:
July 3-September 7 (Friday, Saturday, Sunday & Labor Day Monday)
October 10 & 11 (Oktoberfest)
October 17 & 18 (Fall Color)
Bike Park & Scenic Chairlift Rides
The Summit Express chairlift shuttles sightseers and mountain bikers from the base of Sugar Mountain to its 5,236' peak – taking you up 1,200 in elevation! Bikers ride down the network of trails back to the lodge. Sightseers can hop off the lift to enjoy the view and ride the lift back down. (Tip: Often the temperature decreases 5-10 degrees as you ascend, so have a jacket handy on cool days.)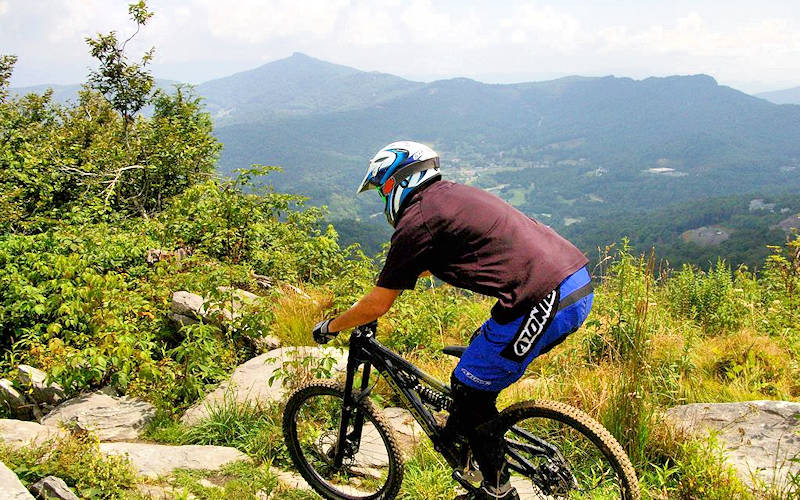 The Sugar Mountain Bike Park features expert terrain and newly built beginner and intermediate trails. Varying line option choices from the summit to the base include rollers, small dips, table tops, and other fun features. A trail access/lift ticket is required. Purchase tickets at the Snowsports School at the lodge. Bike rentals, gear rentals, bike wash and tours available. Learn to ride! A lesson introduces the rider to lift service, trail signage, map use, the elements of bike control through body positioning, braking, and cornering.
Lift Ride Schedule
July 3–September 7, Oct 10-11, Oct 17-18
Friday: 11 a.m. until 7 p.m.
Saturday and Sunday: 10 a.m. until 6 p.m.
Labor Day Monday: 10 a.m. until 6 p.m.
Lift Rates
$15 for a one-time roundtrip sightseeing ride (all ages)
$30 junior (11 and under) all-day ticket
$40 adult (12 and older) all-day ticket
$17 junior (11 and under) half-day ticket
$30 adult (12 and older) half-day ticket
July 4th
A spectacular firework show from Sugar's 5,300-foot peak begins around 9:00 p.m. The Summit Express chairlift runs Saturday, July 4 from 10:00 a.m. until 10:00 p.m. for mountain-top fireworks viewing. Typical Mountain Boys perform at the base lodge from 6:00 until 9:00 p.m. and food and beverages are available
July 10-12, 2020: Sugar Mountain Resort Gravity Mountain Bike Camp
Held for ages 11-16 years old with three days of fun, friends, and developing and improving their mountain bike gravity skills.
August 8-9, 2020: Downhill Southeast Series and NC Downhill MTB State Championships
For all the details about Sugar's summer fun visit SkiSugar.com or call 800-SUGAR-MT.
Places to Stay
Stay on the mountain this summer in a vacation rental or condo. See our Sugar Mountain Vacation Rentals.
More Things to Do
See our Sugar Summer Guide for many other nearby attractions and mountain activities to enjoy during your vacation with us. The resort is across the road from our popular Public Golf Course and Tennis Courts!