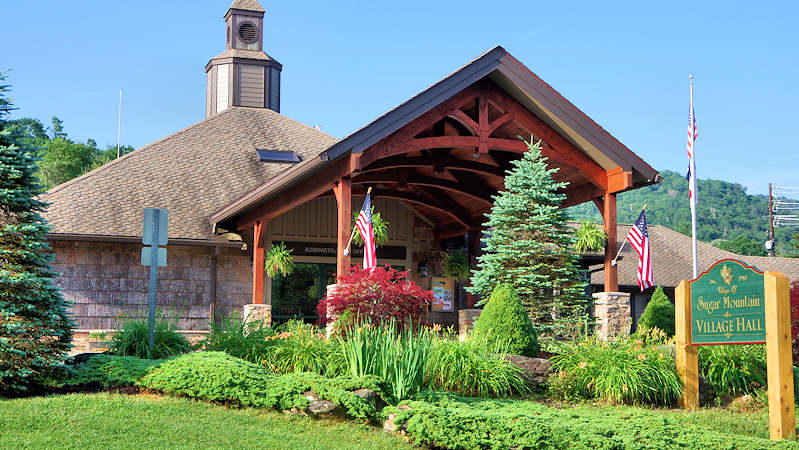 Welcome to Village Hall of Sugar Mountain, North Carolina – population 189. Find many online resources here for both local residents and businesses. Our town is nestled in the middle of the High Country located at the eastern end of Avery County and surrounded by the Appalachian Mountains. Our mountaintop village is filled with flowing and gurgling streams, abundant with native greenery, and gorgeous mountain views. If you live in the village or thinking of relocating here, we are delighted to be of service. We hope you will find answers to many of your questions here! If you are looking for things to do, go to our online Travel Guide.
Village of Sugar Mountain
251 Dick Trundy Lane
Sugar Mountain, NC 28604
Tel: (828) 898-9292
Fax: (828) 898-9293
See our Staff Directory
Locals Most Requested Info (Click on links for details)
Most Requested Phone Numbers
Sugar Mountain Golf Course: 828-898-6464
Sugar Mountain Tennis: 828-898-6746
Sugar Mountain Resort (Ski, Tubing, Bike Park, Lift Rides): 828-898-4521
Caddyshack Café (at Golf Shop): 828-898-1025
Sugar Mtn Police: 828-898-4349 (Non-emergency)
Wilderness Run Alpine Coaster: 828-898-7866
Our Post Office is located in downtown Banner Elk at 155 Central Way SW.
Council & Committee Meetings
Village Council – Third Tuesday of each month at 5:00 pm.
> Village Council moved the June 2021 Regular Meeting to Tuesday, June 22, 2021
>Public Hearing June 22, 2021 for 2021-2022 Village Proposed Budget
>Public Hearing June 22, 2021 G.S. 160D Ordinance Text Amendments
Board of Adjustments – Fourth Tuesday of each month at 10:00 am as needed.
Planning Board – Fourth Thursday of each month at 9:00 am.
>June 24, 2021 Planning Board Meeting has been Cancelled
Tourism Development Authority – Second Wednesday of each month at 9:00 am.
COVID-19 INFO
Testing information, local statistics and resources can be found at the Avery County Health Department and North Carolina Department of Health and Human Services.  Residents may also call the NC Division of Public Health Coronavirus Helpline at 1-866-462-3821. For emergencies, call 911.