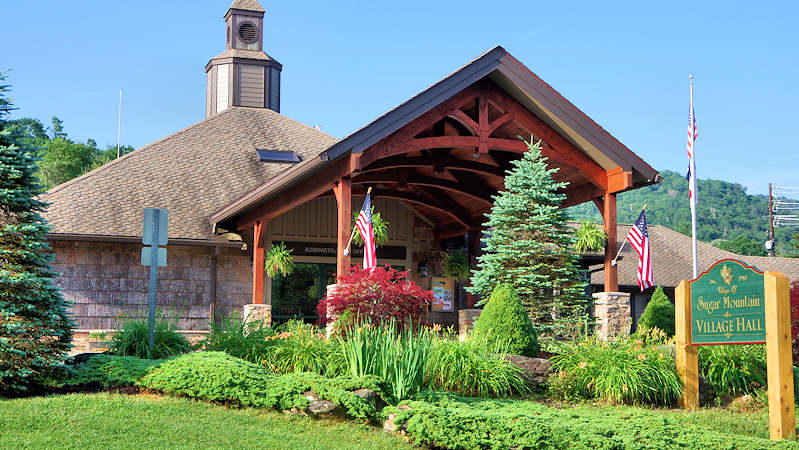 Welcome to Village Hall of Sugar Mountain, North Carolina - population 189. Find many online resources here for both local residents and businesses. Our town is nestled in the middle of the High Country located at the eastern end of Avery County and surrounded by the Appalachian Mountains. Our mountaintop village is filled with flowing and gurgling streams, abundant with native greenery, and gorgeous mountain views. If you live in the village or thinking of relocating here, we are delighted to be of service. We hope you will find answers to many of your questions here! If you are looking for things to do, go to our online Travel Guide.
Locals Most Requested Info
Village of Sugar Mountain
251 Dick Trundy Lane
Sugar Mountain, NC 28604
Tel: (828) 898-9292
Fax: (828) 898-9293
See our Staff Directory
Most Requested Phone Numbers
Sugar Mountain Golf Course: 828-898-6464
Sugar Mountain Tennis: 828-898-6746
Sugar Mountain Resort (Ski, Tubing, Bike Park, Lift Rides): 828-898-4521
Caddyshack Café (at Golf Shop): 828-898-1025
Sugar Mtn Police: 828-898-4349 (Non-emergency)
Wilderness Run Alpine Coaster: 828-898-7866
Our Post Office is located in downtown Banner Elk at 155 Central Way SW.
Village of Sugar Mountain Statement on COVID-19
The Village of Sugar Mountain continues to be open and operating on a normal schedule. However, our offices may be closed to in-person visits. Please call ahead. As always, the health and safety of our residents, employees, and visitors are our top priority.  If your Village business can be conducted electronically (via phone, email, internet, etc) please consider using these options.
Testing information, local statistics and resources can be found at the Avery County Health Department and North Carolina Department of Health and Human Services.  Residents may also call the NC Division of Public Health Coronavirus Helpline at 1-866-462-3821. For emergencies, call 911.
Council & Committee Meeting Schedules