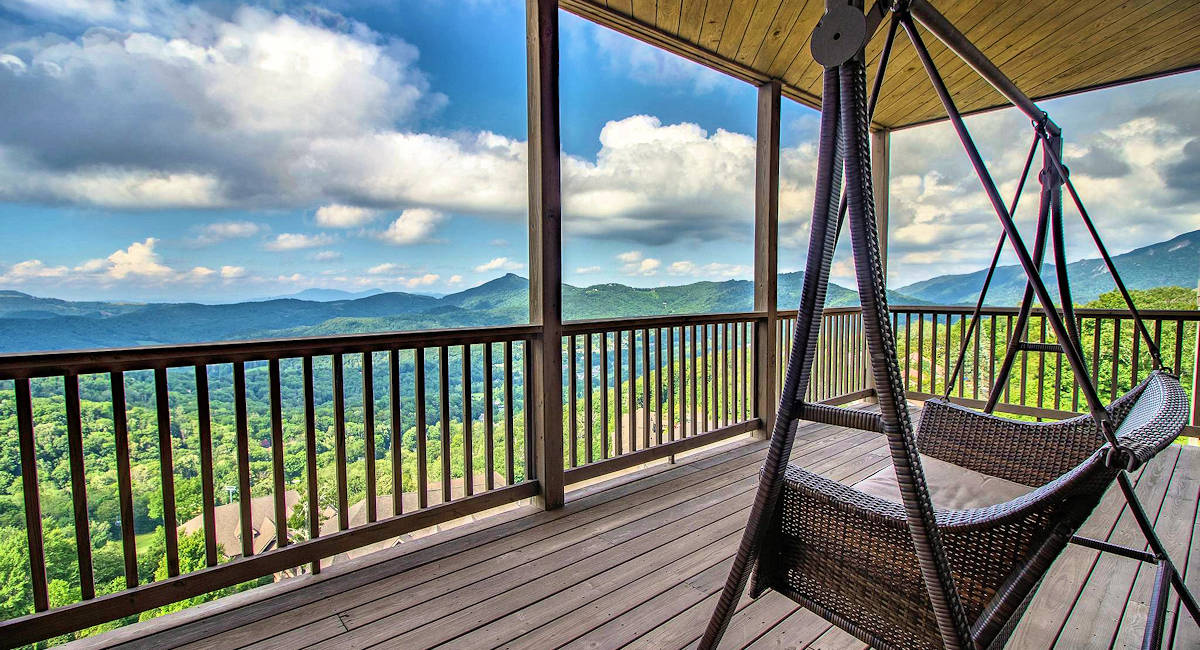 Get away to the village of Sugar Mountain high in the Blue Ridge Mountains (elevation ranges from 4,000 to 5,300 feet) for cooler temperatures, big views and plenty of things to do. Stay in a vacation rental on Sugar Mountain and fill many summer days with sweet fun – from adventurous explorations to relaxation in the cool breezes.
As one of the highest peaks in the Blue Ridge Mountains, Sugar Mountain is one of the coolest places in the South (in many ways)! Sugar Mountain's average high in July is 73 degrees, compared to 90 in Charlotte and 85 in the lower mountains around Asheville.
Whether you are looking for a Blue Ridge Mountain getaway with your spouse or a big family, we have a large variety of vacation rentals – condos to cabins – to fit your lodging needs and dreams. See our many places to stay.
Below, find our Top 30 Things to Do within a 20-mile radius of Sugar Mountain during the summer months (Memorial Day Weekend through Labor Day Weekend):
Top Outdoors Adventure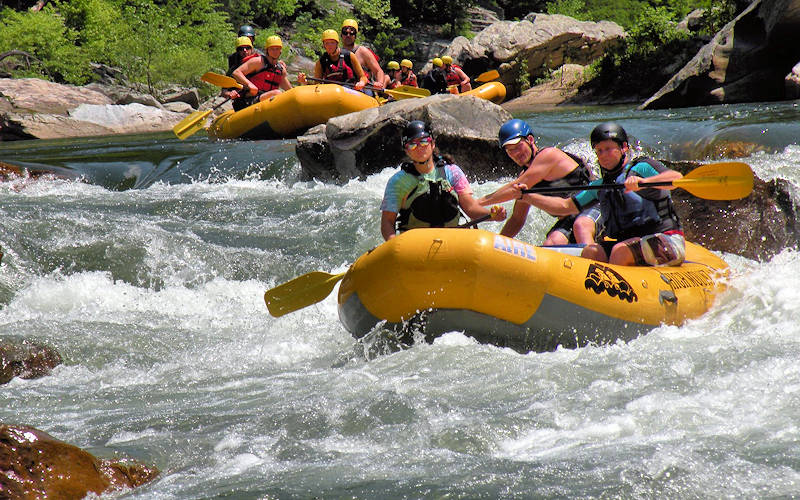 Looking for thrills and excitement in the great outdoors of our Blue Ridge Mountains of North Carolina?
Golf: Play on one of the best 18-hole public courses in Western North Carolina right here in Sugar Mountain. The par-64 layout maximizes every view and mountain brook. Green fees start at just $15. Read more.
Tennis: Located adjacent to our Golf Shop are our six tennis courts meticulously maintained of fast-dry, Har-tru clay. No membership required! Reserve a court for as low as $5/person. Read more.
Mountain Biking: Each summer, the ski slopes at Sugar Mountain Resort are adapted to one of the most thrilling Bike Parks in the South. Ride the lift to the 5,300-foot summit and ride down 1,200 vertical feet on a network of trails. Read more.
Alpine Coaster: Take an exhilarating ride down the first coaster in the North Carolina mountains. No experience necessary. Read more.
Grandfather Mountain: Our famous next door neighbor is the ultimate place to hike, see wildlife and walk across the Mile High Bridge. The trailhead to the famous and challenging Profile Trail is just two miles from the main Sugar entrance. Read more.
Whitewater Rafting: At the base of Sugar Mountain, find High Mountain Expeditions for rafting and kayaking trips on the Nolichucky River, Watauga River and Wilson Creek. Or go tubing on the New River. Read more.
Hiking & Waterfalls: So many great trails for all skill and fitness levels in the surrounding Pisgah National Forest and along the Blue Ridge Parkway – see our Top 20 Trails & Waterfalls.
Wildcat Lake Beach: Yes, we have a sandy beach in the mountains for swimming and sunning – just a few miles from Sugar. Read more.
Ziplines: Ride 20 ziplines at Hawksnest at speeds up to 50 MPH. They are just 8 miles from the Sugar Mountain main entrance. Read more.
Dive-In Pool & Water Park: This public complex in Newland (about 9 miles from Sugar) is fun and economical for a day of splashing around. Read more.
UTV Tours: With High Country UTV Tours, drive a Utility Terrain Vehicle during a guided tour of a scenic, rugged mountain. Read more.
Rock Climbing: Learn from the pros from Edge of the World with climbing and rappelling in Little Lost Cove Cliffs in the Wilson Creek Wilderness Area. Read more.
Horseback Riding: Take the entire family on a guided horseback ride at Banner Elk Stables with views of the mountains – located just 4.5 miles from Sugar's main entrance. Read more.
Tweetsie Railroad Amusement Park: Experience wild west adventure for kids of all ages with steam locomotive train ride, classic amusement rides, zoo, gem mining and a variety of live entertainment. Located about 18 miles from Sugar Mountain. See our Tweetsie RR Guide.
Top Rest & Relaxation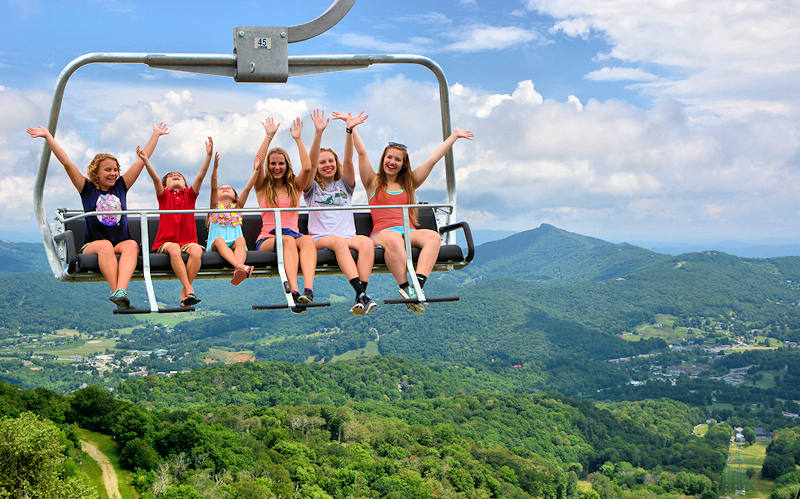 If you are looking to unwind, rest and enjoy the peace and tranquility of the mountains, here are some ideas for you:
Do Nothing: Our homey vacation rentals make it very easy just to sit on your deck or balcony all day with a good book. Soak in the views, rock your cares away and enjoy our fresh mountain air. Find a vacation rental.
Lift Rides: On many summer weekends (including Memorial Day & Labor Day), ride the ski lift up to the top of Sugar Mountain at 5,300 feet. Take a picnic to enjoy the big views and hike out to the rocky summit. Read more.
Scenic Drives: Cruise the famous Blue Ridge Parkway or lesser traveled country roads for plenty of mountain scenery from your car. Stop along the way at overlooks and attractions. The drive to Valle Crucis takes you to the famous Mast General Store. See our Blue Ridge Parkway Trip Guide.
Wineries & Breweries: Sample wines at three wineries near Sugar Mountain in beautiful mountain settings with plenty of outdoor space and live music: Banner Elk Winery, Grandfather Vineyard and Linville Falls Winery. For local beer, head to Kettell Beerworks in Banner Elk with a dozen brews on tap. See our Winery Guide.
Art & Antiques: Stroll through some outstanding galleries and antique shops along NC Highway 184 (Tynecastle Highway) between Sugar Mountain and Banner Elk, plus NC 105 heading to the Foscoe / Boone area.
Picnics: Pick up picnic goodies at one of our many restaurants or a grocery store, then head to the Blue Ridge Parkway, to Tate-Evans Park in Banner Elk or ride the lift to the top of Sugar. On Sugar, go to Williams Park for a picnic pavilion and walking trails.
Restaurants: Find 25 delicious local dining options within 5 miles – including Italian, Mexican, Asian, bar & grills, barbecue, steaks, seafood and farm-to-table. Most have outdoor dining and take-out. See our restaurant guide.
Alpaca Farm Tour: At Apple Hill Farm, take a guided walking tour to see a variety of farm animals and take home some Alpaca yarn, socks and more. Read more.
Gem Mining: At Sugar Creek Mining Company at the main entrance to Sugar Mountain, grab a bucket and head to the flume line. Their staff helps you sort your gemstones, identify them and even create a piece of jewelry. Read more.
2021 Events & Festivals
Grillin & Chillin: Weekly Summer Concert Series
Every Wednesday June 2-Sept 1, 5:30-9 PM (Plus Memorial Day & Labor Day Mondays)
Gather at the Golf & Tennis Club at Sugar Mountain every Wednesday night during the summer for free live music on the big deck – complete with dancing and inexpensive dinner option. Read more. Find plenty of other options for live music at wineries, restaurants and nearby towns.
Lees-McRae College Summer Theatre: Norman Rockwell Musical World Premier
July 27-August 1, 2021
Be the first ot see "America's Artist – The Norman Rockwell Story", a new professional musical that brings to life the work of beloved artist who create more than 4,000 pieces of art. Rockwell captured the essence of America with each paint stroke, from Rosie the Riveter to The Four Freedoms. His Saturday Evening Post cover illustrations reflected small town America as he wished it to be. The professional company of 60 actors, designers, musicians and technicians come from many states, teaming up with accomplished local residents including some very talented youth. Enjoy Broadway just 3 miles from Sugar! Read more.
Fine Art & Master Crafts Festivals
July 16-18 & August 13-15
Returning for the second year in front of the Sugar Mountain Resort lodge! These juried art festivals feature an eclectic gathering of unique hand-crafted wares from fine artists and master crafters. Read much more!
FORUM at Lees-McRae College
June 14-August 2, 2021: This summer concert and cultural series on Monday evenings include a big variety of live music performances, lectures and more. Read more.
Art on the Greene
May 29-30, July 3-4, August 7-8, September 4-5
Visit with artists at this outdoor art festival and take home crafts such as metal, glass, ceramic, wood, watercolors, soaps, candles and much more. 3 miles from Sugar Mtn, in front of the Historic Banner Elk School, 185 Azalea Circle
Summer Concerts in the Park
July & August Thursdays
Enjoy outstanding local and regional bands playing classics and fun dance music suitable for all ages, from Southern Rock to Oldies and Soul/Funk. Food vendors are on site. Small picnic coolers are allowed, but no glass. Bring your own chair. Tate-Evans Town Park Amphitheatre, 210 Park Avenue in Banner Elk (about 3 miles from Sugar) 6:30-9 PM. Free admission & parking.
Ensemble Stage Theatre
This intimate professional theater in Banner Elk brings a broad range of live theatrical presentations of the highest possible quality at an affordable price. Read more.
Grandfather Mountain Highland Games
July 8-12, 2021
The biggest event of the summer near Sugar Mountain is America's grandest Scottish Games, held in a spectacular mountain setting reminiscent of Scotland. This very unique festival brings bagpipes, tartan plaids, multiple stages of live music, crafts, food and traditional wares. Watch continuous athletic competitions, dancing, piping parades, sheep dog demonstrations and much more. Read much more.
Horn in the West Theatre
June 25-August 7, 2021
This outdoor drama in Boone brings to life the famous frontiersman Daniel Boone and the hardy mountain settlers of the Blue Ridge Mountains in their struggle to preserve their freedom during the years before and during the Revolutionary War for Independence. More than 1.4 million guests have watched it since 1952! Show starts at 8 PM. Come early to tour the museum and gardens. Advance reservations required. 15 miles from Sugar Mountain. Go to their website.
Play for Pink Tennis Tournament & More
August 25, 2021
This all-day fundraiser for Breast Cancer Research includes tennis & golf tournaments, games, costume contests, silent auction, music and more. Read more.
Wildcat Lake Challenge Triathlon
August 28, 2021
A sprint length off road triathlon with an exhilarating swim in a cold mountain lake, plus running and mountain biking on Lees-McRae Collage collegiate National Championship course. Go to their website.
Land of Oz Tours
June 18-August 1, 2021 (Sold out)
Take a guided tour of the former amusement park based on the Wizard of Oz on Friday-Sunday. Read more.
July 4th Weekend
Enjoy plenty of fireworks on Sugar Mountain and surrounding towns – plus patriotic parades and music. On the mountain, join the fun at the Summit Crawl & Fireworks. Read more!
Village Visitor Center
Located near the village main entrance and open 24/7, our Outdoor Info Kiosk has plenty of brochures and updates about our area for many other things to do. Also, see our illustrated Village of Sugar Mountain map for a quick overview.
Looking ahead: Fall Color Guide | Winter Things to Do