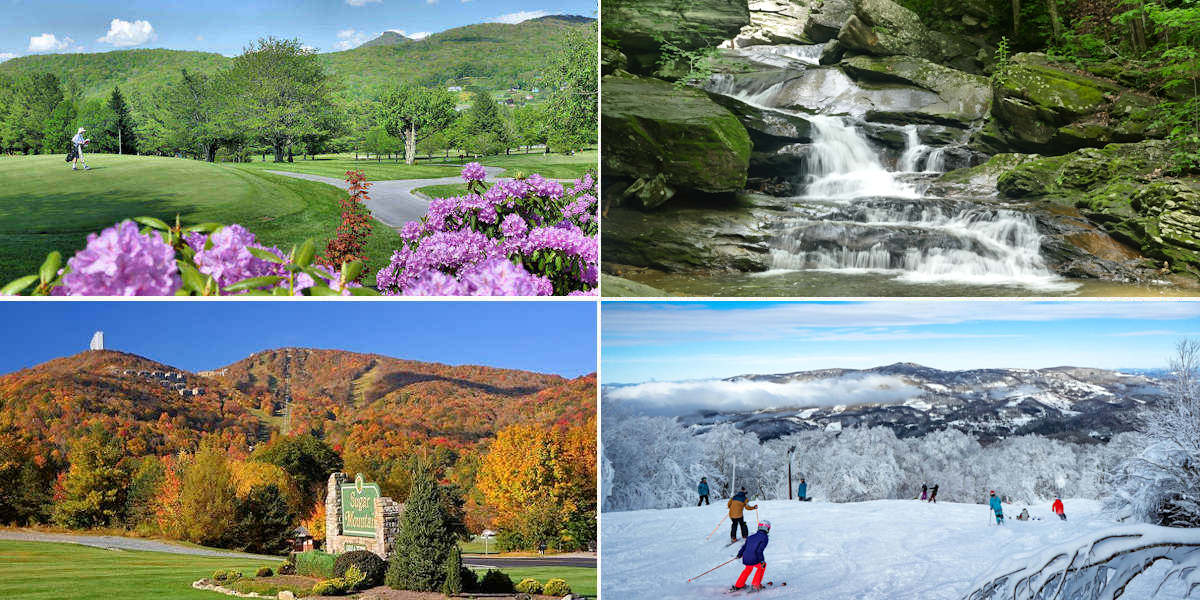 Welcome to the Village of Sugar Mountain!
We invite you to vacation in our mile-high resort village of Sugar Mountain, North Carolina – the High Country's sweet spot for adventures and natural scenery. We are conveniently located in the middle of Pisgah National Forest and the highest Blue Ridge Mountains with many things to do. With our wide open spaces and variety of vacation home and condo rentals, we are the natural spot for social distancing. As one of the highest towns in the Eastern USA, our elevation ranges from 4,100 to 5,236 feet.
Each season brings new fun for all ages. See our Fall Color Guide 2020 for the latest on peak color forecast, scenic drives, outdoor adventures and events for September and October. Our premier public Golf Course and Tennis Courts are better than ever. 
November & December bring the highly anticipated ski season and a variety of winter adventures. See our Winter & Holiday Season Things to Do and the Ski Resort Insider's Guide. Book your vacation rental early to get the best place to stay for you and your family.
Locals: If you are lucky enough to live on Sugar Mountain (population 189), see our Village Hall Guide for all sorts of info including taxes, services and departments. Thinking of moving here? See our relocation tips.
Covid-19 Update: Most of our vacation rentals, restaurants and businesses have reopened with extra safety measures, mask requirements and reduced capacity.

Why Stay on Sugar Mountain for Blue Ridge Vacations?
We are the perfect base camp for the best of the High Country things to do and see in the Blue Ridge Mountains. Our beautiful Village of Sugar Mountain covers a mountain filled with plenty of trees, cascading creeks and spectacular views. Each season brings plenty of fun:
Summer: With our cool summer weather with typical high temperatures in the 60s and 70s, you can escape the heat while enjoying plenty of outdoor adventures: mountain biking, golf, tennis, hiking, waterfalls, whitewater rafting, ziplines and more. Or relax with a picnic, scenic drive on the Blue Ridge Parkway or a rocking chair on the porch of your rental home or condo. See our Summer 2020 Guide.
Fall: The crisp autumn weather arrives in September with those big blue skies – prime time for hiking. During the entire month of October, watch one of the longest leaf color shows in the country. The first colors of the season are found with our views of adjacent Grandfather Mountain. Don't forget the festivals! See our Fall Color Guide & Forecast.
Winter: With an average of 70 inches of snow each winter, we are a winter wonderland. At our Sugar Mountain Resort, find the largest ski area and the longest vertical drop (1,200 feet) in the North Carolina mountains. With skiing, snowboarding, tubing, ice skating and snowshoeing, there's fun for the entire family. See our Winter Guide.
Spring: Our quietest season heralds the beginning of the golf season. Our Sugar Mountain Golf Club is public and welcomes all. Next door, tennis kicks off. Watch the greening up of the mountains and wildflowers during May.