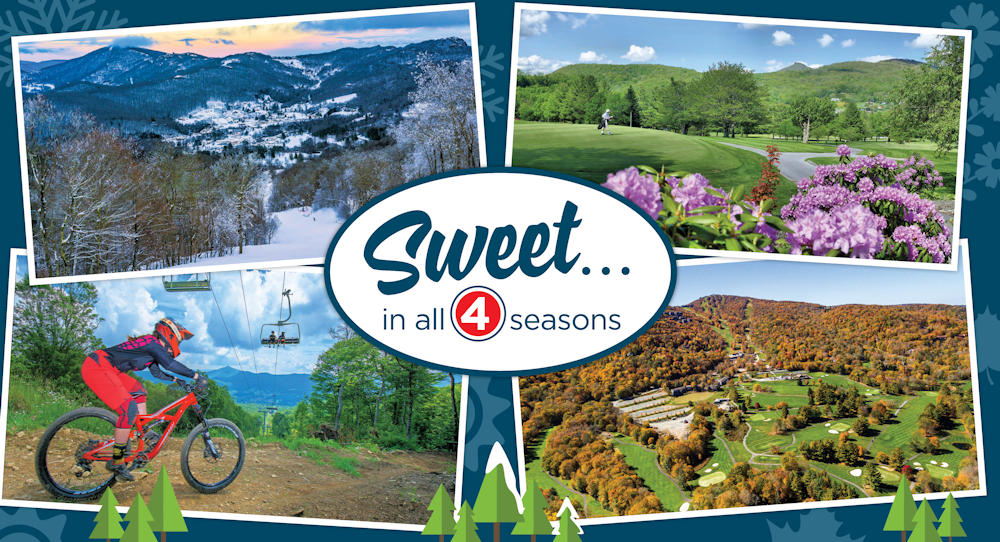 Play & Stay in the Village of Sugar Mountain!
Elevate your next vacation! We invite you to our mile-high resort village of Sugar Mountain, North Carolina – the High Country's sweet spot for adventures and natural scenery in all four seasons. We are conveniently located in the middle of Pisgah National Forest and the highest Blue Ridge Mountains with many things to do.
As one of the highest towns in the Eastern USA, our elevation ranges from 4,000 to 5,300 feet. With our wide open spaces and variety of vacation home and condo rentals, we are the natural spot for social distancing. 
Winter Getaways
The months of January through March are extra magical on Sugar Mountain, bringing the exciting ski season and a variety of winter adventures. See our Winter Season Things to Do and our Ski Resort Insider's Guide.
Spring Vacations
April and May are the "quieter" time on the mountain. Watch the arrival of wildflowers and be the first on the golf course and tennis courts! See our Spring Things to Do.
New Visitor Info Kiosk
Visit our Outdoor Info Kiosk near the main Sugar Mountain entrance for plenty of information and event updates for our area. 
Places to Stay
Book your vacation rental early to get the best place to stay for you and your family. Find mountaintop condos with panoramic views, cozy log cabins in the woods and large homes perfect for family gatherings. See more.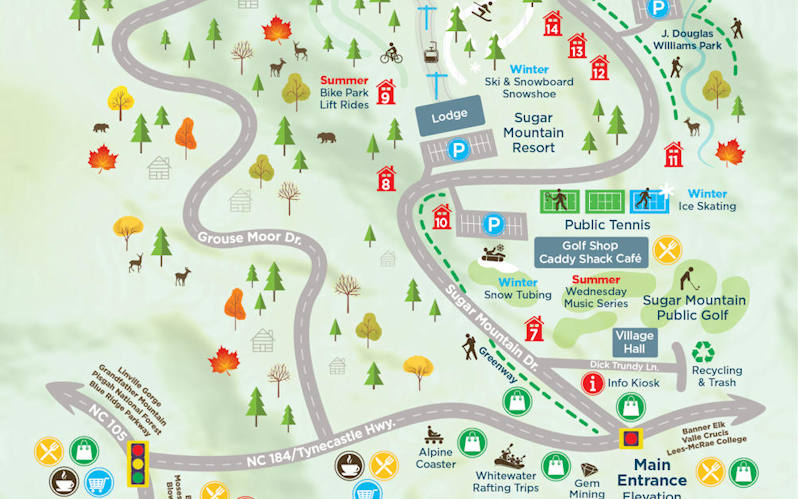 Take a tour! Click here to see our Illustrated Map of Sugar Mountain.
Where is the Sugar Mountain?
Our village is located between Banner Elk and Grandfather Mountain. We are about 20 minutes from Boone and Appalachian State University. Just 8 miles away is the Blue Ridge Parkway. We are surrounded by Pisgah National Forest with iconic hikes and waterfalls such as Linville Falls. 
Locals & Property Owners
If you are lucky enough to live on Sugar Mountain (population 189) or own a second home here, see our Village Hall Guide for all sorts of info including taxes, services and departments. Thinking of moving here? See our relocation tips.
Fun in all 4 Seasons
See our seasonal guides for top things to do: Spring | Summer | Fall | Winter
COVID-19 UPDATES & VACCINES
Testing information and resources are found at the Avery County Health Department. For free COVID-19 vaccinations: Call Avery County Health Department at 828-733-8273, AppFamily Medicine in Boone at 828-386-2222 or Baker Center for Primary Care in Linville at 828-737-7711. Our nearby Walgreens also offers vaccines. For emergencies, call 911. Masks are highly recommended for indoor public buildings.